December 18, 2015
Noggin End Metals
Supplier Overview
Aluminium, Brass, Bronze, Cast Iron, Copper, Silver Steel, Stainless Steel, Engineering Plastics and Exotic Materials. EN24T High Tensile Steel, 2014 (HE15) High Tensile Aluminium (Dural),Colsibro and Colphos
Many imperial sizes are now becoming very difficult to obtain and may become unavailable.
If you do not find what you are looking for please contact us to discuss your requirements.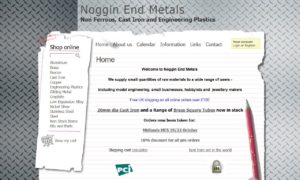 About The Author
Wild about steam
After growing up as the son of an engineer I always had in interest in Steam and Model Engineering. Finding suppliers and clubs can be hit or miss online and so this directory aims to bring it together in one place.