December 23, 2015
Tracy Tools Devon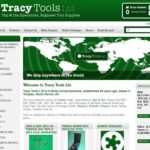 Tracy Tools LTD is a family owned business, established 45 years ago and now based in Torquay,   South Devon, UK.
Extensive stocks of Cutting Tools, Specialising in Taps & Dies covering BSC, BSF, BSW, UNF, UNC, BA, Metric etc, with a full range of Left Hand, Special Thread and Insert Taps.
Also a range of Drills, Reamers, Endmills, Chasers, Saws, Milling Cutters,  Carbide Tools etc.

Website: http://www.tracytools.com/
Telephone: +44(0)1803 328603
Location: Unit 1, Parkfield Units, Barton Hill Way, Torquay, TQ2 8JG‎