January 27, 2017
NP Woolley
Company Overview
NP Woolley is a full time live steam business,  offering services in steam loco repairs, design, construction, copper boilers, supplies, railway signs, and more.
Laser and Water Jet cutting services available, CAD templates available on the website. 
Online ordering of Superheaters, Name plates, Copper, Brass, Ground Steel bar and Brazing Rods
All enquiries welcome.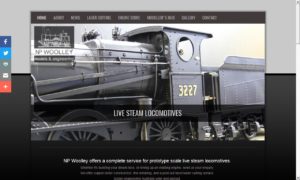 About The Author
Wild about steam
After growing up as the son of an engineer I always had in interest in Steam and Model Engineering. Finding suppliers and clubs can be hit or miss online and so this directory aims to bring it together in one place.